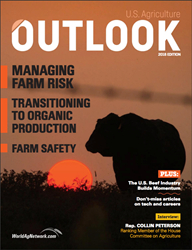 2018 U.S. Agriculture Outlook
In the space of a dozen articles, the 2018 edition of U.S. Agriculture Outlook covers a lot of ground, examining aspects of U.S. agriculture today and exploring new technologies and trends that point the way in the future.
TULARE, Calif. February 14, 2018
The latest edition of U.S. Agriculture Outlook will debut during World Ag Expo 2018, the largest agricultural trade show in the world, which takes place each February in Tulare, California.
In the space of a dozen articles, the 2018 edition of U.S. Agriculture Outlook covers a lot of ground, examining aspects of U.S. agriculture today and exploring new technologies and trends that point the way in the future. Within the pages of this year's publication are features on ways to manage farm risk through diversification and insurance, the need for safety awareness and training in the face of the dangers in farm work, and advice on how to choose a veterinarian who can meet your operation's needs. Forward-looking articles explain how technology is making the food supply chain more transparent and more safe – a win for producers and consumers; provide a roundup of career fields in agriculture with plentiful and well-paying job opportunities; and give producers the basics about how to transition to organic production – and take advantage of the huge demand for organic products. Finally, an interview with Rep. Collin Peterson, ranking member of the House Committee on Agriculture, sheds some light on how the next farm bill is shaping up, and articles on U.S. beef and tree nuts and peanuts shine spotlights on the strong markets for those products.
Come and visit us at our booth at the 2018 World Ag Expo. Booth #3033.
We invite you to open the latest edition and share with your friends and colleagues.
Previous editions of the publication and individual articles can be found online at http://www.WorldAgNetwork.com
Content Ideas and Article Submissions:
Please contact editor[at]faircount.com
Thank you to our advertisers:
Abraham Baldwin Agricultural College
Academy of Nutrition and Dietetics Foundation
AgAmerica Land Loans & Agricultural Financing
Agri-Products
Agriculture Federal Credit Union
Alcorn State University
American Veterinary Medical Association
Brandt Consolidated
CAT Squared
Cultura Technologies Ltd
Dairy Farmers of America
Deere & Company
DSU College of Agriculture & Related Sciences
Farmers Mutual Hail Insurance Company of Iowa
Fastline Media Group
Fort Hays State University
General Mills
Global Organic Alliance
Grammer AG
Gripple Limited
Growth Energy
Jamesway Incubator Company
John Deere Financial
Langston University
Microbe Inotech Laboratories
Mitas Tires North America
Nachurs Alpine Solutions
Nebraska College of Technical Agriculture
Neiman Enterprises
North Carolina State University CALS
Propane Education & Research Council
Rabo AgriFinance
Spudnik Equipment Company
SunPower Corporation
The Timken Company
Titan International
Tri-States Grain Conditioning
Tuskegee University CAENS
University of Missouri - National Center for Applied Reproduction & Genomics in Beef Cattle
World Food Prize Foundation
Zions Agricultural Finance
Ad Placement:
Please call Patrick Pruitt at +1 (813) 675-3822
U.S. Agriculture OUTLOOK is Faircount Media Group's flagship publication for the U.S. agriculture industries. U.S. Agriculture OUTLOOK is an annual publication that offers a comprehensive overview of food, agriculture, natural resources, and related issues based on sound public policy, the best available science, and efficient management. With insights from public officials within USDA and related agencies, and industry leaders, U.S. Agriculture OUTLOOK looks at how industry and academia work hand in hand with the USDA to provide agile services that expand and develop alternative markets for agricultural products and activities; enhance and protect the nation's food supply; deliver nutrition education and food assistance; and protect and manage public and private lands.
WorldAgNetwork.com provides insight into the people, programs, and technologies that will feed the world for decades to come. Born out of the success of Faircount Media Group's publication U.S. Agriculture Outlook, WorldAgNetwork.com is designed to stimulate discussion and facilitate the exchange of public opinion amongst industry members to identify the current state and future challenges of agriculture and agribusiness around the globe.
Faircount Media Group is an independent custom publisher producing niche B2B magazines for a varied portfolio of media clients ranging from government to sport and luxury brands. Faircount Media Group also publishes a range of highly acclaimed in-house titles across defense, infrastructure, and health. Faircount Media Group has offices in the United States, the United Kingdom, and Australia. To find out more, please visit faircount.com